Gaddum also has an affordable adult counselling service. If you'd like to speak to someone about how you're feeling either face to face or by phone/Zoom, we can offer you a space to do so with one of our supportive counsellors.
We also have carers coffee mornings on the first Tuesday of every month, as well as other events such as walks and workshops.
Contact us at salford.carers@gaddum.org.uk or call 0161 834 6069. for more details.
There's lots of advice and information available out there to support those who support others. Whether it's about health and wellbeing, benefits and finances, social care, medical information and more, this is the page for you. Many of these resources are created with the support of the carers I work with, and my expert team of carer support workers.
A carers assessment is about your needs but you can also talk about the needs of the person you are caring for.
If you, or the person you care for, need extra help to pay for something there are many grants, funds, and charities that may be able to help including Gaddum and our trust funds.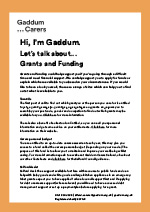 Going into hospital is a worrying time thinking about what will happen to the person you look after if you go into hospital.
If the person you look after goes into hospital you may intend to carry on providing some care whilst they are in hospital. Far from giving you a break from caring, there are often extra responsibilities you have to take on.
My service in Salford offers specific support.
Hospital Admission and Discharge Factsheet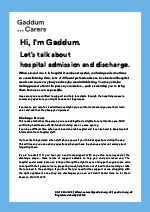 Your home is your place to relax and unwind. What happens when you are looking after for someone at home too?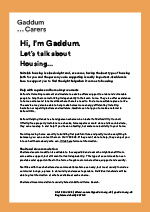 Parent carers rarely feel like 'carers'. They are first and foremost parents. But being a parent of a child or adult who needs additional support means you are a carer.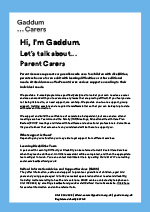 Respite care means taking a break from caring, while the person you care for is looked after by someone else. It lets you take time out to look after yourself and helps stop you becoming exhausted and run down.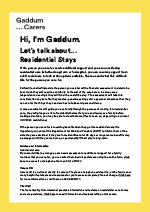 Speaking with professionals 
When the person you are looking after is unwell or in hospital it can be a stressful and confusing time, it may feel overwhelming if lots of different professionals are in contact with you. We can help you through this.
Speaking with Professionals Factsheet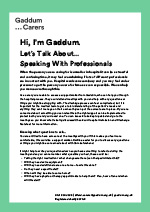 Juggling the demands of looking after someone and work can be challenging.
Balancing Work and Care Factsheet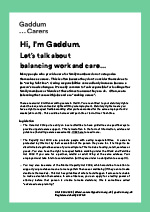 Frequently asked questions
You can self refer but also professionals can refer on your behalf.
Once a referral has been sent in, you will be contacted within 5 working days.