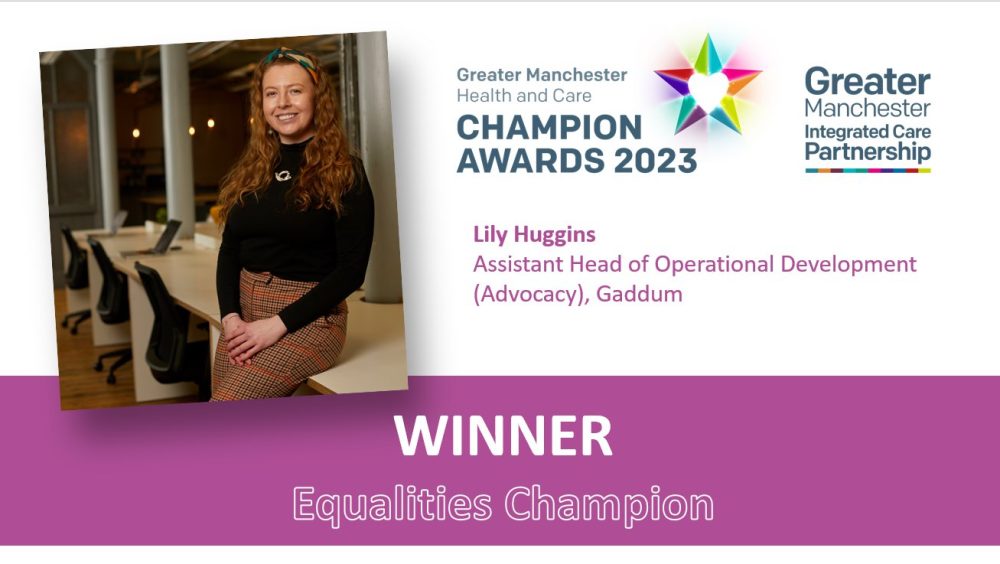 Congratulations Lily Huggins, our Assistant Head of Operational Development for Advocacy, who won the Equalities Champion Award at the Greater Manchester Health and Care Champion Awards on Thursday 13 July 2023. 
These are the only Greater Manchester-wide awards which recognise the amazing contributions from our whole health and care workforce.
A record number of nominations were submitted this year – just over 530 in total. Nominations were submitted for 13 different categories, including Leadership, Innovation and Volunteer Champion.
The Equalities Champion Award is for an individual or team who is committed to breaking down barriers and challenging inequalities.
They aren't afraid to challenge inequality and their action/s have had a demonstrable impact on the experience of others
They are committed to creating a culture where everyone feels that they are represented and that they have a voice
They continue to champion equality, diversity and inclusion at every opportunity
Well done Lily! Find out more about Culturally Appropriate Advocacy.